How Private Equity is using data analytics to drive value creation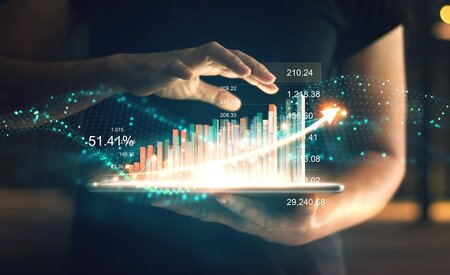 Gut feeling no longer cuts the mustard. Independent technology and management consultant Andrej Moxnes shares with Adam Gates, Head of Odgers Connect, his views on how Private Equity firms are increasingly turning to data analytics and science to turbocharge the performance of their portfolio companies.
In 2019, Wharton Business School published a piece under the headline Data Analytics Is (Slowly) Transforming Private Equity. Note the slightly disparaging word 'Slowly'. It's fair to say the momentum of change has shifted up several gears since then, the global pandemic acting as a catalyst to this change in pace.
Today, PwC Germany talks of a new data and analytics imperative for PE portfolio companies while KPMG warns of firms being left behind if they fail to employ data science. I fully subscribe to that view.
For the past nine months I have been helping PE firms use data science to create value within their portfolio companies. Often the strategy hinges on gaining a deeper understanding of customers.
Businesses with a large customer base need to understand customers at scale through technology to drive investment decision-making, for instance to achieve a higher return on marketing investment. As we exit the COVID-19 pandemic, they must find ways to better retain and reactivate customers.
But it is incredibly difficult to find good candidates who have the experience and background to drive value creation projects. A data scientist does not always appreciate the ins and outs of business operations; often IT is seen as 'the guys in the basement who don't understand what we are doing'.
There is no point embarking on data analytics projects without a clear line of sight of the business problem at hand. Real value is derived from anchoring projects in clearly defined business outcomes that are owned by the business, and clearly understood by IT.
As such, PE tends to be laser focused on building a better relationship between the business and IT. In fact, most PE clients that I'm working with are building internal Digital Transformation teams to help portfolio companies drive business change.
In tandem with data knowhow, there is a need for consultants with operational experience who understand business problems and can apply the insights gleaned from datapoints to real world business scenarios. Effective implementation is critical.
PE is increasingly pushing CTO/CIO agendas at board level as businesses continue to adopt digital change. This comes with the understanding that it is the business, rather than IT, that drives the change. IT merely enables the change and data analytics is a critical part of that.
Departmental silos must be swept away if value is truly to be unlocked. Creating a data warehouse is not necessarily the solution for everyone, however it's certainly helpful in scaling up, providing a single customer view, and understanding your customer segments.
Without question, the use of data science by PE will continue to grow as a means of driving value creation in portfolio companies. Data is a passport to competitive advantage and the direction of travel is plain to see. Those PE firms that get the best out of data science stand a far better chance of turbocharging performance and maximising ROI when the time comes to exit. And those data scientists able to bridge business and technology, often with a consulting heritage, will thrive in this evolving space.
If you would like to get in touch with Andrej, get further information or discuss this article, please get in touch with Adam Gates at adam.gates@odgers.com.