Don't Opt for the Set Menu, Choose À La Carte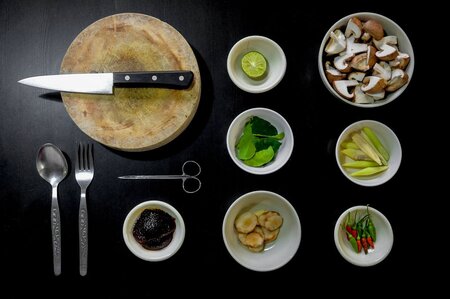 As I settle myself into the perfectly circular seats of a lily-adorned City restaurant I am confronted with an over-sized, leather bound menu. As I peruse, the maître-di suggests an apéritif - I may need some time to digest this heavy reading and as I'm meeting a client, am trying to keep my conversation as enchanting as the surroundings. I'll just opt for the four-course set-menu with all the trimmings.
The meeting launches into full swing, and we get to the heart of my client's problem. A long-term user of management consulting services in various executive roles, she has seen the value of these services, but doesn't need the bells and whistles of the polished PowerPoint, and lengthy report on this occasion. She needs a trusted advisor.
After the selection of delicious fresh breads, my first course arrives – octopus. Oh dear! I shuffle a few of slices under the leafy but inedible décor on the plate, and make a brave attempt to digest the other two. Luckily my companion had the foresight to go à la carte. I stifle an envious look at the lobster bisque.
The issue, she continues is two-fold. She has had incredible success with some of the consulting teams she has worked with. She outlines a particularly challenging digital transformation some years back when she felt the lead Partner fully understood her vision, and together they trialled a handful of proposed solutions before shaping a streamlined method that is still used ten years on.
We are interrupted by the impeccably dressed waiter, whose equally well attired colleague assists to flambé the garlic prawns my guest has ordered. With slightly less flair my cod is served.
Sadly, she continues this has not always been the case. After spending a serious portion of her annual budget on an organisational development programme two years ago, she was left feeling the finished product wasn't quite what she had hoped for, and indeed new issues were bubbling in her HR team that should have been resolved earlier. Now she is faced with the problem of justifying the cost of the last consulting project, and is reluctant to hire a new team to resolve this new issue.
She needs an advisor who can work with the team internally as an esteemed and trusted partner, someone with the consulting toolkit which she has previously seen the value of, with the additional commercial savvy from industry experience. Ideally somebody with experience as a HR Director of a large firm that has implemented a complex organisational change programme.
As she pours a second helping of warm butterscotch sauce over a scrumptious sticky toffee pudding my rhubarb ice-cream turns to liquid.
I empathise. Here is a client who knows the value consulting can bring, but is a savvy buyer. She knows exactly what she wants - thought partnership and organisational fit are just as critical as the right skillset.
I have a few candidates in mind and as we depart I promise a follow up next week with some suggestions of consultants who I'm confident are right for her.
I pick up the bill – my set menu order costs double that of my guest.
Next time I assure myself, I'll go à la carte!