Brave new world: How the NHS can fix its expensive management consultancy problem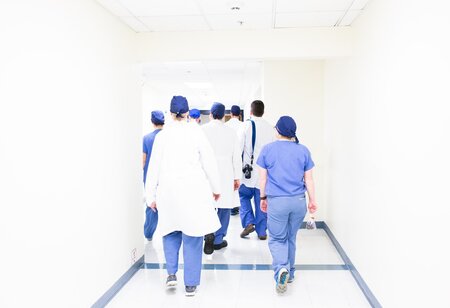 Adam Gates, Lead Principal at Odgers Connect & SJ Leatherdale, Lead Partner in the Healthcare and Life Sciences Practice at Odgers Interim offers a solution to the NHS' growing management consultancy problem
Overspending on strategy and management consulting firms is an endemic problem within the UK's National Health Service. A critical piece of research from Bristol University published earlier this year found that spending on consulting firms to make Trusts more cost effective was higher than the savings their advice actually achieved. Each Trust now haemorrhages an average £1.2 million to management consulting firms every year and with frontline services facing overwhelming pressure, it's a price tag gaining increasing and justified scrutiny. But how can the NHS solve its expensive management consultancy issue? I spoke with a number of experts working with the NHS to dissect the problem and find out how it could be remedied.
Historically, the NHS has approached the buying process of management consultancies with a level of immaturity. There is often a notable absence of accountability and tracking from the get-go that makes a firm's cost-to-output difficult to measure. What's more, as a heavily under-resourced organisation the NHS often lacks the management presence to ensure large consultancies are assessed against clear objectives. The general approach amongst the executive directors that hire a management consultancy is to 'trust that they'll do a good job because they're a well-known brand'.
Tracey Barr is an independent consultant working with a number of healthcare services, and has previously worked in senior positions in the NHS, BUPA and strategy consulting with LEK and Arthur Andersen. She pointed out that there is a tendency amongst Trusts to appoint consulting firms too early, without deciding upon what the problem is that they want them to solve. "You need an experienced consultant to help you define the problem you are looking to tackle and undertake initial strategic analysis to ascertain what it is you actually want to achieve" she told me. Trusts are time constrained, and outsource this scoping process to the consultancies, and so lose control of the deliverables from the outset.
Oli Morris is an independent consultant working as a Robotics Process Automation expert within the NHS. Before striking out on his own, Oli was a Consulting Manager at EY. Echoing Tracey's sentiment, he told me; "at the moment Trusts use consultancies a bit like a shield instead of using them strategically". It's the same quick-fix method often seen in the private sector where busy chief executives hire a management consultancy as a way of demonstrating they're 'doing something' about a problem, but not really taking control.
This initial strategic engagement is therefore critical in order to avoid inefficiencies and misalignment, whether they're generated through the build-up of extraneous projects and costs or by the general lack of ongoing governance. For NHS Trusts, turning to a management consultancy for this strategic direction means engaging a Partner who will sell them a team of junior analysts to deliver the work, despite the fact that those analysts have potentially never worked on a healthcare project before. A common approach is to then apply a template solution; a methodology that has worked for one organisation that can be repackaged for the next – developing a clinical strategy would be one example of this.
It's what Bristol University's research paper refers to as the 'sophisticated selling of often standardised solutions'. Given the complex and varying nature of NHS Trusts and bodies, this 'rinse and repeat' method cannot work with every problem and is therefore a root cause of the cost inefficiencies in hiring a traditional management consultancy.
As independent consultants, it's an approach that for Tracey and Oli is completely anathema to the way they work with the NHS. "An independent consultant will try to get to the bottom of what the problems are, as opposed to trying to sell you additional pieces of work" Tracey said. "I tailor my approach to each organisation and ultimately try very hard to do myself out of a job. For example, working with internal strategy teams so that they can learn how to do things themselves and ideally only bring me in when they have a different problem that needs solving" i.e. bilateral knowledge transfer that will ultimately increase the NHS Trusts' ability to do it themselves in the future.
Quality of work is in most cases the key differentiator between an independent consultant and a traditional consulting firm. "Your reputation is you and if you do a bad piece of work then you won't work again," Tracey explained. "I can't hide behind a brand. Anything that comes out is associated with Tracey Barr so I will always try to over deliver." It's the same for Oli who told me an independent will always give 110% as it's their reputation on the line; "all it takes is for one Trust to shout about a bad piece of work and you'll never work in healthcare again."
From a budgetary perspective, bringing on board an independent consultant is significantly more cost-effective than using a management consultancy. When making a direct comparison, a Trust will often pay the same day rate for an analyst, three or four years out of university as they would for an independent consultant with anywhere between 20 to 30 years' experience. Given the cost of a management consultancy and the general lack of experienced individuals they bring to a project on the ground, it's unsurprising that Bristol University's research found that efficiency gains from management consulting firms 'were the exception rather than the norm'.
Cost efficiency and quality of work are not the only benefits in using an independent consultant. When it comes to a staff point of view, bringing in a single or small team of independents has a much more positive effect: "From a morale perspective, bringing in ten consultants from a Big 4 has a terrible impact. Existing staff feel like they're being replaced – as if they're not doing a good job" Oli told me. "As an independent consultant there's much more integration within teams; existing staff feel like you're working with them, as opposed to separately."
With the cohort of highly-skilled and experienced independent consultants growing in the UK, they would seem like the perfect solution to the NHS' escalating management consultancy problem. Why then, have they not been used more widely? "It's almost impossible for an independent consultant to get onto the Framework Agreement. As a result, Trusts who want to work with experienced independent consultants have to submit a business case to NHS Improvement for approval. This is often a long and bureaucratic procurement process and makes it very restrictive for independent consultants to work with the NHS and effectively discourages Trusts from doing so," explained Tracey.
The framework agreement is a preapproved list of firms that NHS Trusts are allowed to use for consultancy work. If the NHS is to really tackle its management consultancy problem then it needs to address this framework to ensure Trusts are being provided with the best quality and most cost-effective consultancy support available, which increasingly is independent. This coincides with the key recommendations laid out by the Bristol University research paper which advises the NHS to 'review and strengthen existing procedures for the procurement of management consultants'.
However, many executive directors in the NHS don't know that independent consultants are even an option for them. We've found that there's a lack clarity on the NHS side about what an independent consultant can provide for the NHS. The terminology is often unfamiliar and there's confusion on the buyer's side about what they can deliver. Ultimately we'll need to educate the market so that the NHS knows there is a viable solution out there.
Other challenges also need to be overcome. Executive directors and general managers are extremely busy and under immense pressure at the best of times, often leading them to outsource both the problem and the solution to consulting firms, foregoing any accountability of the work that needs to be done. It means the problem is susceptible to retrofitting by the Big 4 which can often lead to a disconnect with what outcomes the Trust really want. Greater ownership of the initial problem means any form of consulting support can be held to account at successive stages of their engagement, thereby reducing the opportunity for inefficiencies to build up.
With hospitals and Trusts facing unprecedented pressures and the UK's tumultuous political landscape creating funding uncertainties, it's clear that the NHS can no longer be used as a training ground for the Big 4's junior analysts. A cost-effective solution exists in the use of independent consultants; alumni from the traditional consultancies, who will go out of their way to deliver results and ultimately cost the NHS a fraction of what it is currently paying for consultancy support.
For more information, please contact Adam Gates on 0207 518 2629 or SJ Leatherdale on 0207 529 1084